2023/24 Annual Plan adopted by Council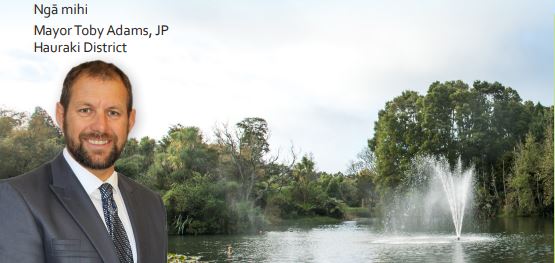 Kōrero ā te Koromatua | Mayor's message
2023/24 Annual Plan
Locally and nationally we've seen rising costs due to supply and demand issues, increasing interest rates and inflation. That put real pressure on the budgets we forecasted in 2022/23 for the 2023/24 Annual Plan. Going forward, we've really had to sharpen our pencil to take into account these unplanned increases.
Our goal, on setting the rates for the 2023/24 rating year, was to keep costs as low as we could without impacting our core services, and importantly, to keep the rates rise under inflation. We're pleased that at the time of setting the rates, we were able to achieve this for our communities. (Inflation is now sitting at 6.7 percent, which is a drop from 7.2 percent in February 2022).
2023/24 Rates
The finalised 'average' per property rates increase projected for 2023/24 is 6.8 percent for non-water (land) rates and 8.9 percent for water rates (from the 1 July 2023, this equates to an additional $13.35 on a $150 bi-annual water bill).
We've put together examples of the what the non-water (land)rates will look like across the district from 1 July 2023.
We are in year three of the 2021-2031 Long Term Plan (LPT). Changes from the LTP were mostly due to the effects of higher supply costs in combination with increases in inflation and interest rates. This was illustrated when Council considered both the new Waste Management and Land Transport contracts, which were more expensive than what we had predicted. Here's more information on the waste management changes coming your way from 1 September 2023.
Part of the Land Transport Activity is subsidised by Waka Kotahi. Historically, we have received a subsidy for operating this activity and as a result we have assumed in our current budget that Council will continue to receive this subsidy, and at the same percentage as during 2022/23.
We've trimmed our budgets as much as possible without impacting our core services and we're ready to tackle the challenges of the new rating year. Let's continue to work hard together to make our district a vibrant place to live, work and play.
Fees and charges
We also reviewed the 2023/24 Fees and Charges and adopted these at the 26 April Council meeting.
The fees and charges remain mostly unchanged. There are some increases to the building consent and dog registration fees and some administrative amendments. The new fees and charges schedule will be available on our website from the 1 July 2023.
Changes to Building Consent fees - effective from 1 July 2023:
The Planning check fee for projects to the value of $19,999 has increased from $90 to $110.
An online system fee of $150 to recover the cost of the online application portal.
Minor projects, solid fuel heaters and solar hot water conversions have increases in admin and processing fees.
Regulatory fees - effective from 1 July 2023:
The fee for registration of campgrounds, funeral directors, mortuary and stock sale yards had been left off the schedule in error. These have been added back in and the following charges will now apply when registering as any of these premises.
| Regulation | 2023/24 fee |
| --- | --- |
| Campground | $180.00 |
| Funeral director/Mortuary | $185.00 |
| Stock Sale Yard | $250.00 |
Changes to dog registration fees - effective from 1 July 2023:
Dog Owner Classification

Registration fee

Penalty fee if paid after 31 July

Total fee if paid after 31 July

General dog

Entire

$120.00

$60.00

$180.00

Desexed (vet certificate required)

$90.00

$45.00

$135.00

Dogs in excess of three (3)

$40.00

$20.00

$60.00